*This letter is being mailed out to families of Jr./Sr High students .*
August 6, 2020
Happy August!
Hello, we hope this letter finds you happy and healthy!
We are getting ready to begin another great adventure together with the start of the 2020 – 2021 school year. We know that this school year faces many uncertainties, and our goal is to educate you to the best of our ability in a way that you and your family are most comfortable. Mr. Clark, superintendent, will outline the plan and options for the NEB High School students. In the meantime, you will find your tentative schedule enclosed.
The Bell Schedule
First, here is the high school bell schedule for the 2020 – 2021 school year:
| | |
| --- | --- |
| 8:00 - 8:12 (12 Minutes) | Student Arrival/Breakfast |
| 8:15 - 8:20 (5 Minutes) | Homeroom (HR) |
| 8:23 - 8:53 (30 minutes) | PLC/Clubs/Advisory (AA) |
| 8:56 - 10:01 (65 Minutes) | Block 1 (B1) |
| 10:04 - 11:09 (65 Minutes) | Block 2 (B2) |
| 11:12 - 11:42 (30 Minutes) | 7/8 Lunch (L1) |
| 11:45 - 12:15 (30 Minutes) | 11/12 Lunch (L2) |
| 12:18 - 12:48 (30 Minutes) | 9/10 Lunch (L3) |
| 12:51 - 1:56 (65 Minutes) | Block 3 (B3) |
| 1:59 - 3:05 (65 Minutes) | Block 4 (B4) |
| 3:05 | Student Dismissal |
We are excited about the possibilities our new schedule can offer to students. This schedule allows for remediation and interventions with teachers for students who need test prep and/or additional academic support, time for clubs and activities, as well as a block format which limits students to 4 core classes per semester. We feel this will make the course load for students more manageable over the course of the school year.
Most core courses are scheduled over the four Blocks (B1, B2, B3, B4), but you may find that you are scheduled for courses over the three lunch periods as well. Please know this is not a mistake, and you have been put in these courses for a reason. It may be to prepare you for a Keystone Exam you should have taken last spring but will need to take this winter instead, it may be band and chorus, or it may be a supplement to a course you are taking the first semester. The lunch periods you are not scheduled to eat can be opportunities for extra instruction you may be in need of as well. You will see "STUDENT PREP" in your schedule as well. This will be extra time you have to study or receive extra needed support from a teacher.
You may also see "conflicts" in your schedule - classes that are schedule the same time as another class. This, too, is okay if it is an online language course, and independent study (IS) course of some kind, band and chorus, or SAE/FFA.
Please keep in mind that because we are on a block schedule, a class that normally takes a full school year to complete will only take one semester (half the year). A class that previously took a semester to complete will now only take a quarter (9 weeks) to complete. A class that previously took a quarter to complete will now only take 4.5 weeks (or 1 of 8 CYCLES). Here is a diagram that may help understand this concept:
.25 credit 4.5 weeks

C1

C2

C3

C4

C5

C6

C7

C8

.5 credit

9 weeks

Q1

Q2

Q3

Q4

1 credit

18 weeks

S1

S2
Even though some of you will have cycle courses (the C1 – C8), please know that we will only be issuing grades at the end of each quarter, as we have done previously. So, if you have a C1 and C2 course, you will get your grade for both on your quarter one report card.
We will also remain on a 6-day rotation.
Sample Schedule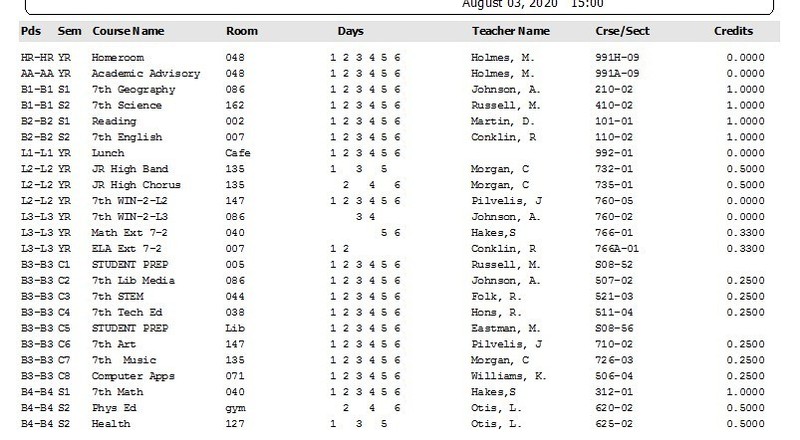 This schedule happens to be for a 7th grade student who has scheduled both band and chorus as an elective. In a few weeks, we will have students' locker number and combinations assigned. This information will be provided to students when the final schedules are printed. If your locker number and combination is not yet listed, it will be assigned before school starts.
This student will start his day in Homeroom and Academic Advisory. These are typically the same teacher. Once the school year is up and running, this student may be visiting a different teacher for AA for some additional help or to participate in a chosen club or activity. You will see next to Homeroom that the room number is listed (Room 48). It will then show which days the student will have each course. This student has homeroom all 6 days with Mr. Holmes in room 48. The course and section information is more for office use and can be ignored. The credit value is also indicated for each course. Junior high students do not choose courses (other than band and chorus), but we ask that high school students please check to make sure they have ALL required courses and that their total credits add to AT LEAST six!
Back to the sample schedule… For Block 1 (B1) for Semester 1 (S1), this student has Geography. The second half of the year (S2) during Block 1, he will have Science. For Block 2, this student will have Reading for the first half of the year and English for the second half.
This student eats Lunch during L1 for the entire year (YR) as it says Lunch next to L1. During the second lunch period (L2), this student will rotate between junior high band and chorus. You can see that the band will be days 1, 3, 5, and the chorus will be days 2, 4, 6. This student has a conflict L2 – which is a WIN course with Mr. Pilvelis. This WIN time is for "Whatever I Need," so this student will just continue to go to band and chorus and not to WIN…unless the student requests to miss band and chorus a day to receive some extra support from a teacher. During the third lunch period (L3), this student rotates every two days to a different teacher for test-prep/extensions and academic support.
During Block 3 (B3), this student cycles through 8 different 4.5 week timeslots (C1 – C8). C1 will be the first 4.5 weeks of the year, C2 the second 4.5 weeks of the year, and so on. You can see where this student is scheduled for each of the eight cycles he has during Block 3. Only students in grades 7-9 have 4.5 week cycle courses. During Block 4 (B4) for Semester 1 (S1), this student has math. The second half of the year, Semester 2 (S2), the student has PE and Health. PE is on days 2, 4, 6 and Health is on days 1, 3, 5.
At the end of Block 4, students will be dismissed.
We will make sure to review this information again at the start of school to make sure everyone understands how to interpret the schedule. A school map along with additional information has been included for those students entering 7th grade.
So Now What?
Please email Mrs. Barrett with any schedule changes you would like to make or any scheduling issues you would like to discuss. Please request a phone call to discuss your schedule in further detail. Please do not call and leave a message and please include as much detail as possible in your email. Mrs. Barrett's email is lbarrett@nebpanthers.com.
Northern Tier Career Center (NTCC)
We remain in frequent contact with the Northern Tier Career Center (NTCC) to determine any additional seat openings. In the meantime, if you were unable to obtain a seat, you will see it unscheduled at the bottom of your schedule. If you have any questions, please send an email.
If you are enrolled in a seat at the NTCC, here is their most recent post to students: NTCC Students: We hope you and your families are well and look forward to seeing you on the first day of school, August 27th! Our reopening plan will be posted on the NTCC web site after it is approved by the JOC on August 19th. Please enjoy the rest of the summer and don't worry about purchasing tools or materials yet. We will communicate what you need once the plan is finalized, however, the PS Bank Scholarship application is open and we encourage you to apply as soon as possible.
The website of the NTCC is www.ntccschool.org.
Important Links
The links to the in-house Northeast Bradford Course Catalog as well as the online Panther Academy Course Catalog can be found here: http://www.nebpanthers.com/o/nebsd/page/high-school-courses.
Other Information
If you are a student who scheduled a first and/or second year of a language online through our Panther Academy, you will see them as currently unscheduled. We will get those into your schedules before the start of school. If you scheduled any other single course online through our Panther Academy or registered for a fall dual enrollment course through Mansfield, they, too, are not yet included.
After over 10 years of active dual enrollment programming in our area, the Pennsylvania Department of Education has ended Corning Community College's ability to provide in-house courses to our students. We were excited to be able to offer this opportunity as a new and free option to our students, but, unfortunately, we will not be able to. Our partnerships with Lackawanna College and Mansfield University remain unchanged.
If you are a senior planning on a program after graduating that requires the SAT or ACT, you should register ASAP for a fall test date if you were not able to test this past spring. We recommend you take one of each exam. Most colleges require at least one or the other. Please remember to not use your school Gmail account when registering. Register with a personal email that you plan to keep after graduation.
We are so very much looking forward to seeing you all again soon. In the meantime, please enjoy the rest of your summer and stay safe!
Sincerely,
Matthew Holmes
High School Principal
Lee Anne Barrett
School Counselor