What is the Parent Teacher Group (PTG)?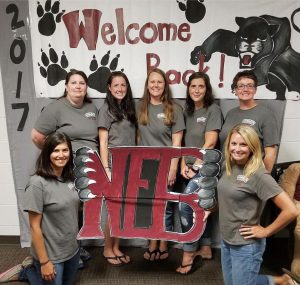 TOP (LEFT TO RIGHT): HOLLY SHAULL, BRANDY HUGHSON, AMANDA EASTMAN, KETURAH KOLESAR, BONNIE GRAY. BOTTOM (LEFT TO RIGHT): LIZ LOCKWOOD, MEGHAN SHORES. NOT PICTURED: KERRI STRAUSS AND WENDY CARRINGTON
The purpose of the PTG is to promote the growth and well being of all the students by improving our skills as parents and educators; improving communication among students, staff and parents; and offering encouragement and support to the school system by developing a network of helping relationships.
Anyone is welcome to participate in the PTG. You do not have to attend meetings to be involved, but it is recommended. While the PTG does not require you to fill out any forms to participate, you must obtain clearances to volunteer at the school. To learn more, visit the Volunteers and Chaperones webpage.
The PTG supports our schools by:
helping with Scholastic book fairs

providing incentive prizes

collecting Box Tops and holding a year-end ice cream party for the grade with the most Box Tops

donating Hands Across Northeast and Safe Trick or Treat

providing snacks for PSSA testing week

giving out birthday cards and hosting a luncheon for teachers and staff

holding a picnic for 6th grade students

providing additional money for field trips

holding fundraisers to support these activities
PTG Meetings & Officers
Meetings are generally the first Thursday of the month at 6 pm. The meetings take place in the Elementary Library, unless otherwise noted.
Like and follow PTG on Facebook for meeting reminders and changes.
PTG Officers
Amanda Eastman, President

Julie Martin, Vice President

Brandy Hughson, Treasurer

Keturah Kolesar, Secretary
PTG Initiatives
BoxTops for Education
Box Top collection is everyday of the school year. The PTG counts Box Tops three times a year, noting how many each grade contributed. At the end of the year, the grade that contributed the most non-expired Box Tops wins an ice cream party.
Check the expiration dates, and send Box Tops with your child to give to his or her teacher. To learn more about clipping Box Tops and the way it helps our schools, visit the Box Tops for Education website.
Panther Spirit Wear
Show your Panther Pride with NEB Elementary School Spirit Wear! Look for announcements throughout the school year for opportunities to buy Spirit Wear.
PTG Newsletter
Contact the PTG
Email nebptg@gmail.com or visit the PTG Facebook page